7″
LAST 24 HOURS
23″
LAST 48 HOURS
1080
ACRES: 90% OPEN
47″
BASE DEPTH
Colorado's backcountry ski area:
All of the soul, none of the chairlifts.
Bluebird is Colorado's newest ski area — and we're excited to return to our location at Bear Mountain for the 2022/2023 ski season! From skiing with your dog and beginner-friendly hut trips to live music and free bacon, we are proud to be the friendliest and most unique ski mountain in the universe. 
Bluebird is located at Bear Mountain, on the Continental Divide between Steamboat Springs and Kremmling in northern Colorado (click for directions), and offers 1,200+ acres of in-bounds terrain, 28 runs, 11 marked skin tracks, and endless stoke for skiers and riders of all skill levels. Come check us out this winter and see what you've been missing out on!
Lesson Packages
Includes Day Pass, Backcountry 1, 2, or 3 Lesson, & ski or splitboard rental.
Starting at $169
BC 1 Lesson
This welcoming, beginner-friendly course is geared toward never-evers and folks who have only clicked into their bindings in the backcountry a handful of times.
$80
Day Passes
A Day Pass provides access to the mountain, plus comforts that you won't find in the true backcountry such as pre-set skin tracks, avalanche-managed terrain, ski patrol, a mid-mountain warming hut (with free bacon!), and more.
Starting at $39
22/23 Season Passes
Unlimited mountain access and tons of benefits including discounts, buddy passes, and more!
Starting at $249
AIARE Rescue Courses
This is a 1-day intensive course that dives into your rescue equipment and how to properly perform a rescue. There are no prerequisites; however, we recommend taking AIARE 1 beforehand.
AIARE 1 Courses
This 3-day course is the gold standard for anyone who wants to travel in or near avalanche terrain.
*Hybrid courses have pre-coursework & mandatory Zoom class prior to course.
AIARE 2 Course
Expand your knowledge of human factors, terrain management, and risk-management so that you are more prepared to make smart choices in complex terrain — and guide others to do so. 
We do things differently here.
Avalanche-managed backcountry, ski patrol, skin tracks instead of chairlifts, slopeside parking instead of crowded lots, great terrain without all the hype, a culture of education, and a grassroots scene chock full of campfires and live music. Our team is passionate about all things backcountry, and is ready to welcome you to our fun and quirky backcountry playground.
Explore Bluebird's Trail Map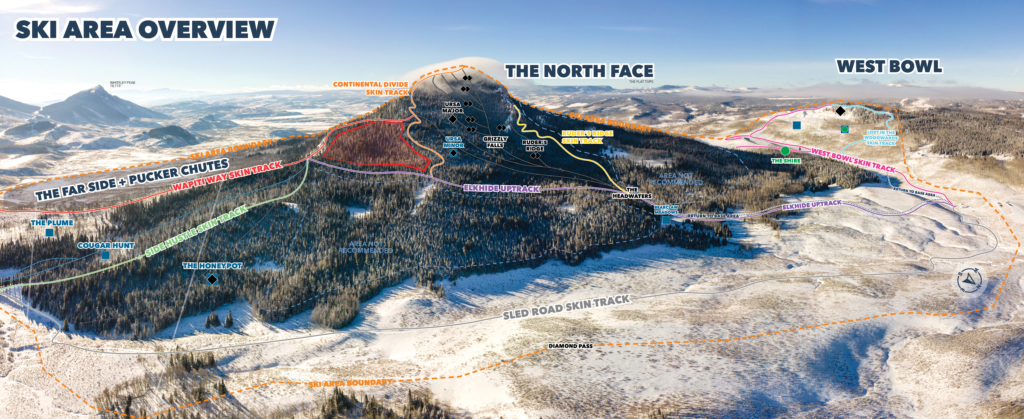 1
Start Here at the Base Area, also the main parking lot & camping area
2
The Perch: restrooms, ski patrol & occasionally free bacon
3
Summit of Bear Mountain: incredible views & stellar double black couloirs up top, epic black runs lower down
4
Summit of West Bowl: Amazing green & blue runs through aspen trees
5
The Far Side: great blue & black runs with amazing afternoon sun
6
Pucker Shoots: Double black couloirs off the summit of Bear Mountain
We're Changing the Ski Industry
PEOPLE ARE TALKING