Welcome to an entirely new kind of backcountry ski area.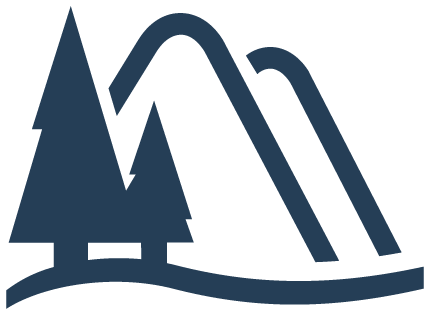 A soulful respite
away from the crowds
All the basics in one place:
rentals, lessons, education,
and a lodge to warm up
Avalanche-evaluated
powder terrain for all abilities
You belong at Bluebird Backcountry!
Bluebird Backcountry is a new kind of human-powered ski area designed for learning and adventure. We've combined the best elements of the true backcountry with the basic comforts and amenities of traditional ski areas: great terrain, backcountry gear rentals and lessons, a lodge and warming hut, and a professional ski patrol.
Bluebird Backcountry has zero chairlifts. Instead, skiers and snowboarders make their way uphill under their own power following pre-set skin tracks. Instructors are on hand for backcountry and avalanche education. And then there's the fun part: ripping skins and skiing or riding back to the base.
"Bluebird Backcountry is the place I wish had existed when I was learning to backcountry ski."
When our Co-founder Jeff Woodward took his brother into the backcountry for the first time, he had an epiphany: it's really hard to learn to backcountry ski. It's expensive and complicated, not to mention dangerous if you don't have an experienced mentor. So we've imagined a better way.
In 2020, we made big strides toward making our dream a reality: Bluebird Backcountry is a real place with real success stories! Scroll down to learn more about our test season and how we got here.
Bluebird Backcountry Timeline
Bluebird Backcountry: 2020
In the spring of 2020 we ran a 15-day test season at Peak Ranch in Kremmling, Colorado. More than 1,000 guests joined us at Colorado's newest ski area. We:
Welcomed hundreds of people to the backcountry experience
Offered a less crowded, powder-filled resort alternative
Instructed beginners and guided their educational development
Revived traditional ski culture and connected like-minded adventurers
We expect to run a longer season next year and hope you'll join us. We're working on the details now and will announce our plans by email. Stay tuned here:
Bluebird Backcountry: 2019
In spring of 2019, Bluebird Backcountry prototyped the concept on snow. We hosted 171 guests over six days in two locations:
Out of bounds (guided) with a USFS permit at Mosquito Pass, Colorado, south of Breckenridge

In-bounds (free-range, plus clinics and option for a backcountry lesson) in partnership with Winter Park Resort, after the lifts closed
These prototypes allowed us to test demand, price point, education options, and much more. We rapidly iterated between test days to learn as much as possible and identify opportunities and challenges to solve for. Bluebird Backcountry was featured in The New York Times, Outside, TGR, Adventure Journal, The Colorado Sun, 5280 Magazine and more.
Bluebird Backcountry: 2018
We announced the concept with a survey that went viral in February 2018. More than 3,000 responses rolled in, with 93% of respondents interested in the idea. As word spread, we received an outpouring of support from individuals and organizations within the backcountry community. A volunteer Planning Squad emerged to carry the idea forward. Interested in volunteering? Email info@bluebirdbackcountry.com
Bluebird Backcountry: 2016/2017
We began researching and concepting Bluebird Backcountry in 2016 and 2017. We believed then (and believe even more strongly today) that a human-powered ski area will:
Serve the growing curiosity and demand for alternative/backcountry experiences

Provide a welcoming place for everyone, including families and more risk-averse skiers

Create a safe space for people to try, learn, practice, and hone their backcountry skills 

Instill good habits and create a bridge into and out of traditional Avy 1 courses

Revive the soul of skiing and give the backcountry community a place to gather
Jeff Woodward, Co-Founder and General Manager
Jeff has been snowboarding since his awkward teenage years in New England. He discovered backcountry skiing in Tuckerman's Ravine while attending Dartmouth College and has been hooked ever since. With an MBA and entrepreneurial background in the energy and tech industries, Jeff brings business acumen and a unique start-up approach to the ski industry. Jeff loves sharing his passion for the outdoors with others, and he's excited for Bluebird Backcountry to make backcountry skiing more accessible to everyone.
Erik Lambert, Co-Founder and Chief Marketer
Erik started skiing at age 1 and discovered the backcountry nearly 20 years ago. His time in the outdoor industry spans more than a decade and includes positions as marketing director at the American Alpine Club and digital editor at Alpinist and Backcountry magazines. In 2016 he founded Bonfire Collective, a marketing agency that serves ski areas, guide services, and professional organizations that include the American Mountain Guides Association and Professional Ski Instructors of America. Erik believes that Bluebird Backcountry will fill critical gaps in backcountry education and help revive the soul of skiing.
The Bluebird Backcountry Planning Squad
Our idea for a backcountry ski area has led to an unexpected outpouring of support. A volunteer Planning Squad has emerged that's passionate about sharing the joy of backcountry skiing and the importance of backcountry education. Our team has tons of experience across fields to support the many efforts required to make this ambitious project a reality. We are incredibly grateful to our Planning Squad, including:
Amelia Altavena, Kiley Baham, Taylor Barnard, Whitney Bradberry, Travis Beck, Eric Benson, Dan Burns, Nate Castner, Jeff Crane, Hannah Engel, Lia Engelsted, Sam Gifford, Sam Gwozdek, Travis Hightower, Russell Hunter, Chris Johnson, Judd MacRae, Jesse Melchiskey, Doug McLennan, Rob McLennan, John Monson, Brock Nelson, Lew Peterson, Trent Ruder, Kent Sharp, Anna Steuart, Emma Walker, Justin Wilhelm, Patrick Woods, and many more.
Interested in getting involved? Email info@bluebirdbackcountry.com