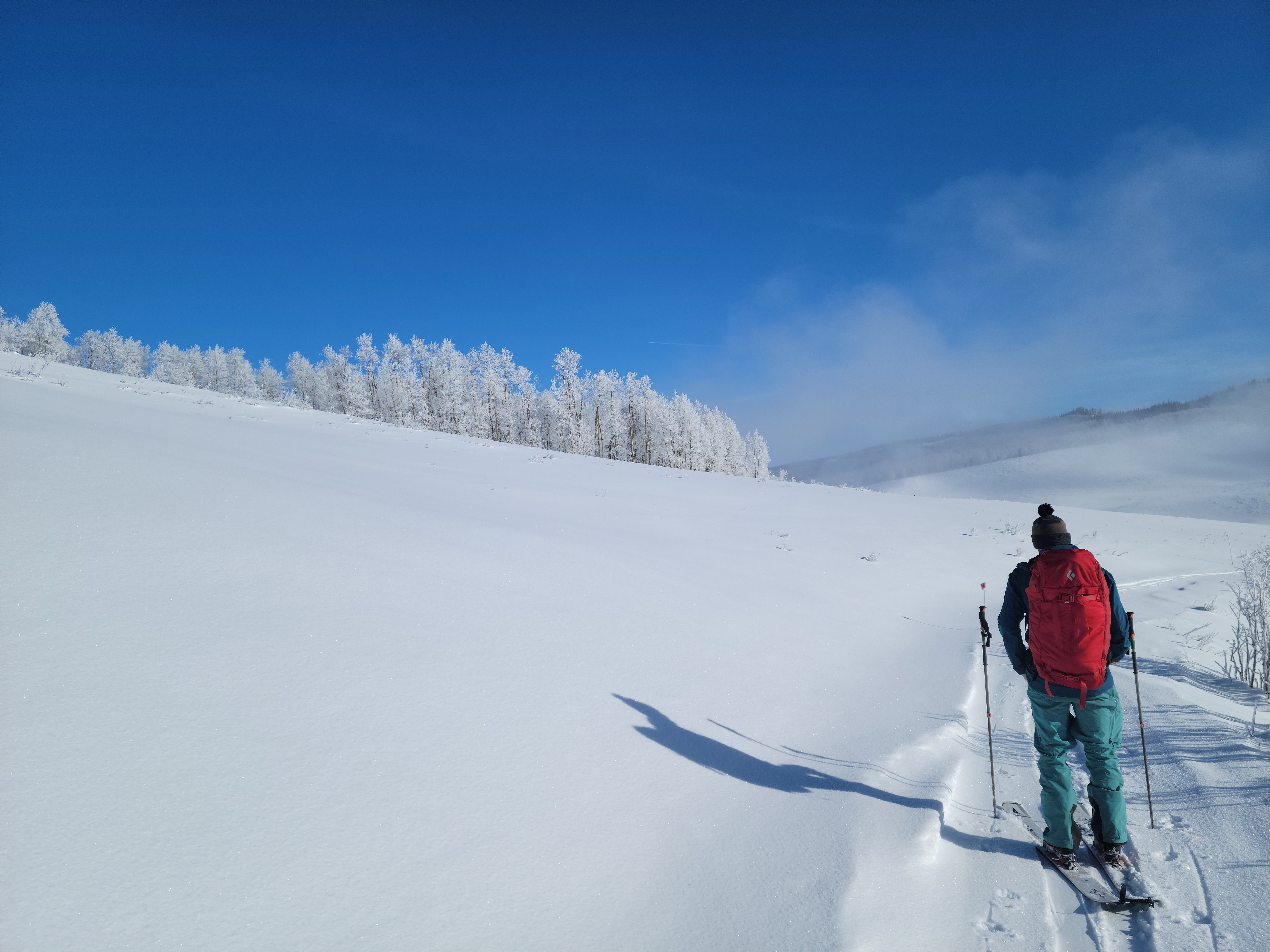 How to Stay Warm While Backcountry Touring
When temps drop, it takes a lot more energy to stay warm while out in the backcountry. If frigid temperatures cause you to opt for the hot tub instead of the skin track, consider using these tips to improve your next touring experience.
1. Strategically layer.
It's all about the layers! Start with a thermo-regulating base layer then add multiple thin layers on top. Carrying multiple lightweight layers instead of a few heavy layers allows for more adaptability to conditions. Most importantly, avoid cotton at all costs — it doesn't breathe well and takes a long time to dry.
2. Arrive ready.
Show up at the trailhead ready to hit the skin track — pants, skins, and beacon on, backpack packed, and ready to go. Standing around in the cold for too long is hard to recover from on chilly mornings. That said, you'll likely spend some time discussing a tour plan and doing a beacon check before leaving the parking lot, so put an extra puffy jacket on during your morning check in.
3. Start Cold.
You'll warm up the second you start moving. Knowing this, start a little colder than comfortable to avoid getting sweaty right away. It's important to not let sweat lead to damp clothes as these items will take a longer to dry in cold temps and wearing damp layers will inevitably make you colder.
4. Prewarm Gear.
During the drive to the trailhead, put your gloves on the dashboard and boots near a heating vent in the car. Beginning a cold morning with toasty gloves and boots will help keep your hands and feet warm for the remainder of the day.
5. Pace Wisely. 
Moving is the number one way to build heat, but moving too quickly will lead to excess perspiration and exhaustion. Try to set a maintainable pace that allows you to keep warm without sweating and limit the stop-and-go breaks to a minimum.
6. Don't ignore extremities. 
Often, cold hands or feet are a sign of a lowered core temperature and prolonged exposure to cold temperatures can lead to long-term nerve damage. Focus on keeping your core warm and check out these tricks for keeping your hands and feet warm.
7. Fuel Up.
You don't always realize how many more calories you burn in cold weather until you're bonking on the skin track. Start the day with a good breakfast and focus on a regular intake of liquids and food during breaks or when moving slowly; this helps keep the furnace burning.
8. Pack liquid heat.
Bring along an insulated bottle or thermos of hot tea or warm water — you won't regret the added weight. Better yet, bring along a mug of soup for lunch! Warmth in cold environments helps keep morale high and gives you the energy for one more lap.
9. Warm up before transitioning.
Insulated jackets don't generate heat, they just hold it. If you know the designated transition point or you're about to stop for a longer break, put on an extra layer 20 yards before that stopping point then carry on. You'll build up heat for your layers to retain once you stop moving.
10. Stay off the snow.
While it's fun to play in, sitting down on wet snow for even a minute will likely lead to some of your layers getting saturated with water. Carry a small thermarest or insulated layer to sit on, or flip your skis skin-side up and use them as a bench.
Staying warm, well fed and happy is the key to enjoying your backcountry experience. If you're intimidated by a full-on backcountry experience, check out Bluebird Backcountry — it's the perfect place to try out touring with added amenities to keep you warm, well-fed, and stoked to come back for more.
https://bluebirdbackcountry.com/wp-content/uploads/2022/02/20220122_095346.jpg
6936
9248
Erika Lee
https://bluebirdbackcountry.com/wp-content/uploads/2020/12/site-logo-2.png
Erika Lee
2022-02-03 10:12:59
2022-02-03 10:20:12
How to Stay Warm While Backcountry Touring