EARLY BIRD SALE ENDS 9/30
Get the best deals of the year.
30% OFF YOUR OVERNIGHT STAY
Season Passes On Sale Now
0″
LAST 48 HOURS 
0″
BASE DEPTH
0″
LAST 24 HOURS
1,100
ACRES
CLOSED FOR THE SEASON.
22/23 Weekday Season Pass
Unlimited and guaranteed weekday mountain access (Mon/Thur/Fri only).
$229
22/23 Next Gen Season Pass
Unlimited mountain access for all shredders 26 and under.
$229
22/23 Season Pass w/ Bluebird+ Add-On
Season Pass: $579
Weekday Pass: $479
Next Gen: $479
22/23 Season Pass w/ Unlimited Ski Rental Add-On
Mix & match skis, boots, skins, and more.
Starting at $598
22/23 Season Pass w/ Unlimited Ski Rental Add-On
Mix & match splitboards, skins, and more.
Starting at $498
AIARE EARLY BIRD REGISTRATION
AIARE Rescue Courses
This is a 1-day intensive course that dives into your rescue equipment and how to properly perform a rescue. There are no prerequisites; however, we recommend taking AIARE 1 beforehand.
AIARE 1 Courses
This 3-day course is the gold standard for anyone who wants to travel in or near avalanche terrain.
*Hybrid courses have pre-coursework & mandatory Zoom class prior to course.
AIARE 2 Course
Expand your knowledge of human factors, terrain management, and risk-management so that you are more prepared to make smart choices in complex terrain — and guide others to do so. 
Colorado's backcountry ski area:
All of the soul, none of the chairlifts.
Bluebird is Colorado's newest ski area — and our vibe is everything you want it to be. From dogs and slopeside camping to live music and free bacon, we are proud to be the friendliest and most unique ski mountain in the universe.
"An absolutely incredible experience. Lovely staff that are both kind and knowledgeable."
"From the moment I stepped out of my car to the moment I got back in, the entire experience was enjoyable and well thought out. The staff was super friendly and was happy to guide me through their ticketing/orientation process. The emphasis on safety was impressive… If you are curious about ski touring but don't want to buy all the gear up front there is no cheaper and stress free way to test out this wonderful outdoor activity. Additionally, if you are a more experienced backcountry skier, then this place is still awesome…Overall, the emphasis on safety is unmatched, and the smiles-for-miles factor is off the charts. Just ski Bluebird Backcountry."
"We had a fantastic experience taking our dog to Bluebird for his first Backcountry trip. All the staff was friendly and knowledgeable. The terrain was great and well maintained – plenty of untracked powder. I only wish we had more days to spend there!"
"The best ski experience ever. Already bough our passes for the upcoming ski season. Friendliest most relaxed ski experience while being the most energy expending ski experience. Cranked up to 11!"
"Awesome experience at Bluebird. It's an idea that hopefully will take off in other areas of the country but as far as Bluebird goes, as long as they're operating in CO I'll make it a point to go wherever they are. The "leave no trace" concept was blown out of the water with how amazing everything looked when the season was done. Bluebird is ran by some stellar individuals to include their volunteers. Till next time!!"
"This place is amazing! Such a great idea, and great vibes. Highly recommend whether you are an advanced bc skier or brand new- super welcoming to those who are wanting to get into the sport. Also. Bacon and S'mores. What else do ya need?!"
Explore Bluebird's Trail Map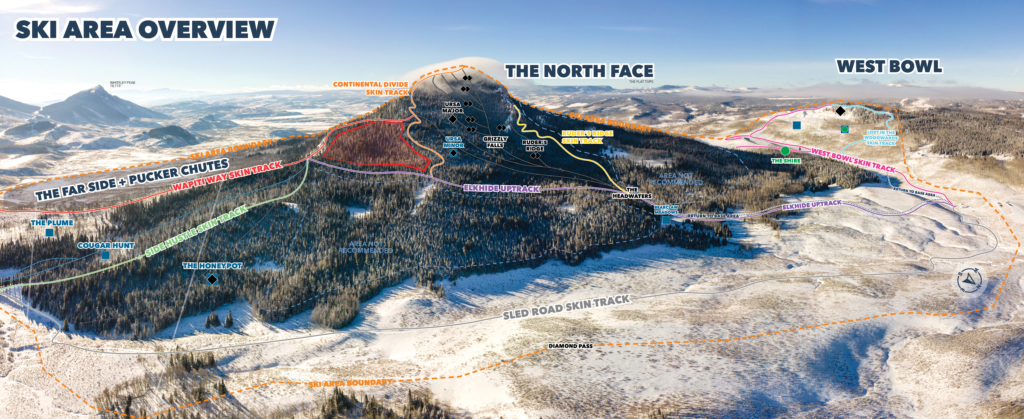 1
Start Here at the Base Area, also the main parking lot & camping area
2
The Perch: restrooms, ski patrol & occasionally free bacon
3
Summit of Bear Mountain: incredible views & stellar double black couloirs up top, epic black runs lower down
4
Summit of West Bowl: Amazing green & blue runs through aspen trees
5
The Far Side: great blue & black runs with amazing afternoon sun
6
Pucker Shoots: Double black couloirs off the summit of Bear Mountain
We do things differently here.
Avalanche-managed backcountry, ski patrol, skin tracks instead of chairlifts, slopeside parking instead of crowded lots, great terrain without all the hype, a culture of education, and a grassroots scene chock full of campfires and live music.
Bluebird is located at Bear Mountain, on the Continental Divide between Steamboat Springs and Kremmling (click to open Google Maps).
We're Changing the Ski Industry
PEOPLE ARE TALKING